Information
April 9th-14th, 2019
the SpiritFire Retreat Center
407 West Leyden Road
Leyden, Massachusetts 01337
Come join us in this beyond expectation exploration of therapeutic sound healing led by Zacciah Blackburn, with assistance from Dorothy Stone.

We know of no other sound healing training which offers the level of in depth and comprehensive experiential and cognitive preparation, for competency in becoming a qualified and effective therapist in the field of intentional sound. No prior therapeutic or musical experience is necessary.
While this is an "introductory" program, no matter your level of experience or competence, you will find this program effective at meeting your needs for integrating rich experiential practices, and broadening and advancing your understanding and your work in the field of intentional sound (and music,) and enriching and fulfilling both your personal and professional needs.
Zacciah teaches from an adept level of understanding arising from the wisdom schools and science of sound based practices, yet effectively reaches both novice and advanced students and practitioners with his in depth knowledge. We enter an intuititive, experiential, and cognitive understanding of the inter-connectedness of life, consciousness, and healing, and how sound is effective as an application of a healing conduit. This is a beginner's practice, yet filled with advanced material presented at an easy to understand level, directly experiencing work with crystal and Tibetan bowls and bells, Native American drums and rattles, voice, toning, tuning forks, and other sound healing instruments and methodologies, as well as a background in scientific, esoteric and mystical understanding of the human neurophysiology and energy systems, the nature of sound, healing, and consciousness, as advanced and utilized through centuries by indigenous and wisdom school teachings, such as Native American shamanism, Tibetan Buddhism, Hindu chant, as well as modern medicine, psychotherapy, and other healing arts.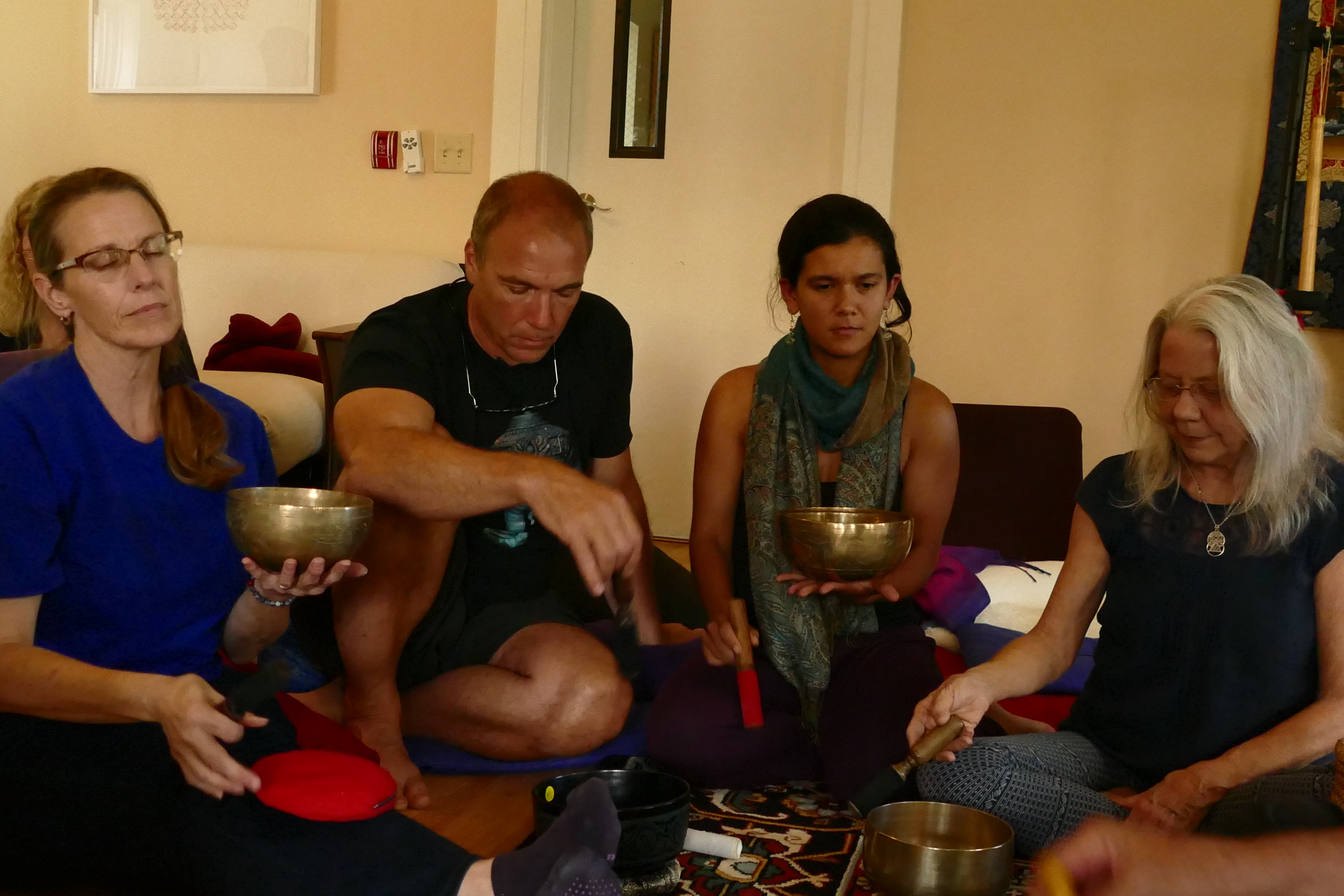 Novice and advanced practitioners have most often reported the insight and experienced gained was far beyond their expectations. The program has proven beneficial both for those wishing to begin a sound practice for themselves or professionally, as well as far advanced practitioners and professionals, from the medical, (MD, nursing, etc.,) psychotherapeutic, yogic, body-workers and other holistic professions, to integrate into their current practice.
At the end of the program, you will be given a certificate of completion.
For the most in depth training, we recommend our full Year 1 of the School of Sound Healing. But there are no current full Level I programs available. Sign up for our newsletter for notices on when our next full year program is offered.
From this program, you can expect to explore:
• Experiential and cognitive advancement of our understanding of fundamental principles and utilization of techniques of sound healing therapies
• Exploration of the nature of Authentic Healing
• Experiential practices and esoteric understanding of the nature of human consciousness
• Utilize sound practices from Vedic/Yogic traditions, Tibetan Buddhism and indigenous cultures
• Hands on practice in sound techniques with applications for personal development and the professional setting• Scientific research and contemporary sound therapies
• Use of voice, ancient and contemporary instruments including, crystal bowls, Tibetan bells, tingshas, shangs, drum, rattles, flutes, and tuning forks in wellness and therapeutic practices
• Practice of sound techniques to enhance personal and professional practices (especially useful for Yoga instructors, Massage/Body
Therapists, and other complementary therapies)
• Balancing and clearing techniques for the neurophysiology, chakras,etheric/subtle energy and endocrine systems
• Using sound and consciousness practices to provide pathways to awakened states of wholeness and well being
It is highly recommended for all pursuing our program of studies. It offers a skilled approach to the nature of sound and healing designed to be of benefit to novice and practitioner.
We approach a broad understanding of major sound healing modalities. With this foundation of understanding with the nature of sound, and the use of instruments, we begin to explore ever more deeply the use of voice, also, for personal and professional use, for practice in clearing, aligning, and energizing the human energy field, the nature of and use in invocation of allies and teachers in the subtle worlds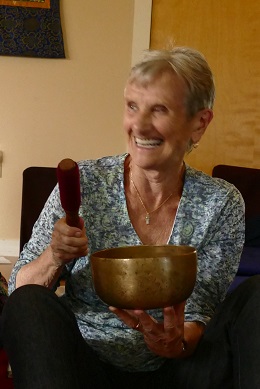 of understanding, and much more. How is sound used as healing tool? Why is it so effective? We each have the creative capacity to utilize our voice in healing, every day. By setting proper awareness, and intention, we can, by speaking our truth, voicing our wounds, and touching our Divinity, and alliance with subtle realms of being, spark healing in ourselves and others.
Daily Itinerary

Typical schedule format:

First day: Arrive and register by 12:00 noon
Lunch begins at 12:30 PM
Program begins at 2 PM
Breaks every 1.5-2 hrs.
Practice ends 6:30 PM

At minimum, 2 evenings we will offer practice for 1-2 hrs.
Starting at 7:30-8 PM
If you are a musician, we often give time for musicians to share, improvise, or join with others in their musical offerings
during at least one evening gathering.

2nd through 5th day:
Program begins between 9:45-10:00 AM
Lunch break at 1-1:30 PM
Lunch Break 1 1/2 hrs
Afternoon session ends 6:00 PM

6th day:
Program begins between 9:45-10:00 AM
Lunch at 1-1:30 PM
Lunch Break 1 hr
Program Closes 3:00 PM
with time for Certificate Presentation ceremony
Table of Contents
- Location and Date
- Meals
- Program Housing
- Travel Information
- What To Bring
- Purchasing Instruments
Location and Date
April 9-14, 2019
SpiritFire Retreat Center
407 West Leyden Road
Leyden, Massachusetts 0133
- The retreat is held on 95 pristine acres of woodlands, with many hiking trails.
- The retreat center is clean, peaceful and an inspiring place to do the work.
Meals
- All meals are included in the cost of the program, including daily snacks, tea and coffee.
- The chefs do there best to take into consideration everyone's dietary restrictions. Please let us know if you have any dietary needs.
- The chefs try to create inspiring meals that both nourish the body and spirit in our work, many times using local produce as available. Participants feedback has been overwhelmingly positive about the quality of these meals, and are a highlight of the workshop.
Program Housing
- Housing is included in the cost of the program.
- This retreat center includes handicapped accessible rooms
- You may stay before or after the program, with meals included, for an additional fee. Please contact Spiritfire at retreats@spiritfire.com to set this up.
- Single occupancy rooms are rare in these programs. You may request single occupancy, but we can not promise single rooms.
- Please let us know if there is someone you would like to room with.
Travel Information
- You may stay before or after the program, with meals included, for an additional fee. Please contact Spiritfire at retreats@spiritfire.com to set this up.
- This center is near Greenfield MA & Brattleboro VT.
- The closest airport to the center is Bradley International in Hartford, Connecticut, though Boston, MA, Albany, NY and Manchester, NH are also options
- Taxi service is available from Bradley International to the Greenfield MA, Brattleboro VT area.
- SpiritFire will assist with transportation from Greenfield, MA, Brattleboro, VT, and when possible, Springfield MA or Hartford CT Bradley Airport. A fee may apply. Please contact Spiritfire at retreats@spiritfire.com to set this up.
- For international travel, there is good train & bus service to the region from NYC, and Boston, MA airports. Please research online for these services. Greyhound or PeterPan bus services are a good choice.
- Please use GPS to find the retreat center by car.
What To Bring
- The retreat center provides cushions and backjack supports.
- Many participants enjoy bringing a blanket to stay warm in the retreat center during practice.
- Please bring a notepad and writing utensil to take notes.
- The weather will most likely be cold, but can vary with the possibility of rain or a very small chance for snow. Please look at the weather forecast before the program and pack accordingly.
- There is the possibility for doing outdoor work. Please bring appropriate footwear for walking in the woods.
- The Center of Light will provide a large variety of sound instruments to use during the retreat. We suggest if you have a favorite drum or small bells you wish to play, or small crystals you may bring them, but for all else use the instruments provided.
Purchasing Instruments
- A wide variety of instruments will be available for purchase at the retreat, including Native American Drums, Quartz Crystal Singing Bowls, Tibetan Metal Bowls and many more.
- We accept all major credit cards, cash or check
- If you have specific instruments you would like to purchase at the program, please let us know at least 2 weeks ahead of time.
Registration Information
- To register for the program add the program to your cart. Please then check out with the program in your cart.
- After registering for the program, please fill out and submit this registration form.
- Please see our refund policy here.
- We accept all major debit and credit cards, Paypal, cash, checks, money orders and payment over the phone. Please add the program to your cart and choose your payment option in the check out process.
- If you wish to pay over the phone, please give us a call 802-674-9585
- If you wish to pay by check or money order, please send it to:
The Center of Light
PO Box 389
Ascutney, VT, 05030